VIENS JOUER CONTRE CERTAINES DE LES MEILLEURES ACADÉMIES DU MONDE!
TOURNOIS L'ÉLITE
Jouez à l'un des meilleurs tournois de football pour jeunes filles au monde sur la Riviera portugaise.
SAVOIR PLUS SUR ESTORIL
Previous
Next
IberCup est l'un des plus grands Tournois Internationaux de Football Jeune de nos jours. Participe à ce Mondial de Footbal; viens rencontrer les plus grandes académies de renom sur nos 8 tournois en Europe, Amérique ou Asie!
Inscriptions Ici!
BENEFITS FOR PARTICIPATING IN IBERCUP TOURNAMENTS
Awards

Gather your team, participate in IberCup and win the chance to take your team to circuit tournament for free.
Rankings

Teams, players and coaches have the opportunity to enter the IberCup Ranking! Improve your position and win fantastic prizes!
Plan your Trip

Make the reservation of family members through our website and enjoy special discounts.
Internacional Exposure
Face teams from five continents and show your talent to the world.
Worldwide Tournaments

Play against the best Football Academy Clubs in different locations in the world.
App Ibercup
Avec notre application vous pouvez toutes les informations sur le tournoi, le calendrier de matchs, les dernières nouvelles et bien plus.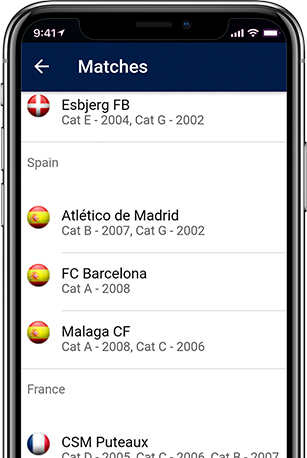 Application du réseau social IberCup
'Get Social' avec notre réseau social! Partagez vos meilleurs moments avec la communauté IberCup.
Partenaires Principaux
Partenaires Officiels
Fournisseurs Officiels
Partenaires média